With only a week & a half left until we find out if Baby Hill will be a boy or girl, I can't help but think of nursery ideas. We have a spare room directly across the hall from our bedroom that we plan on using for the nursery. Since we already have a guest bedroom in this house, we left this spare room pretty empty to avoid purchasing another bedroom suite.
I've been pinning a few things on my
Pinterest board for kids
, & have come across some cute nursery ideas. Without knowing the sex of the baby, I have no idea how we will actually decorate the nursery, but I do love looking at possibilities!
I love this green baby bed! It would be cute to do if you find a used crib on Craigslist or at a flea mall.
I also love the simplicity of this antique crib from
A Country Farmhouse
. The entire nursery is adorable.
We have been playing around with the idea of putting a twin bed or a trundle bed in the nursery, along with the crib. I'm not sure if it will end up working out or not, but I came across this photo & loved the color scheme. It would be easy to make a twin headboard using a similar fabric, & then using that same fabric for the crib skirt.
This has been one of my favorite photos of a nursery for a long time. I remember coming across it a couple of years ago when my sister was pregnant & loving it! I love the wooden pallet behind the crib, & the gray crib color. I also really like the light walls & colorful accessories.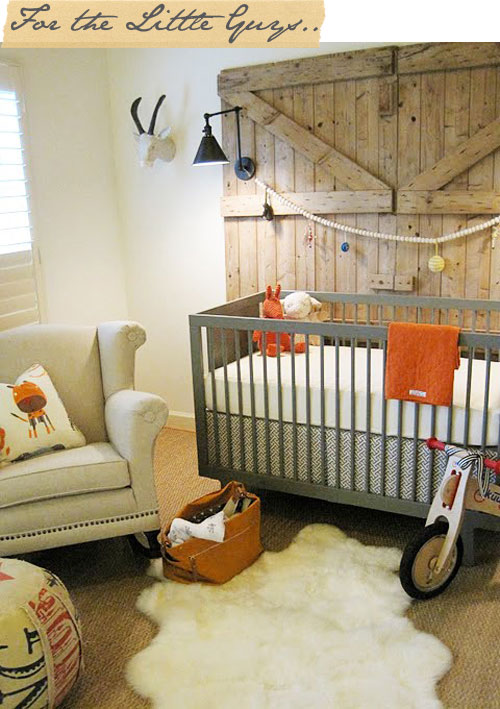 This nursery is definitely more modern than I am usually drawn to, but I really like all the colors.
I love the use of antiques in this nursery.
This last photo is obviously not a nursery, but I love the color scheme. It would be perfect for a boy or a girl, & the mix of fabric patterns & textiles are wonderful.
I am hoping that once we find out boy or girl we can start planning for the nursery. I am not a bed in the bag kind of girl, so I plan on picking out the fabrics & making the bedding & curtains myself. I also want to have time to look for cute accessories like these antique alphabet cards.